KING DIAMOND Attends 'Heavy Metal And Punk Fossils' Exhibition Opening In Denmark
June 14, 2013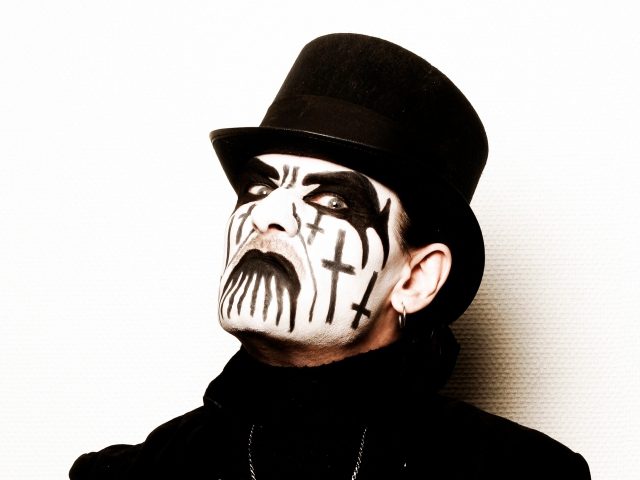 Source: Blabbermouth
When a scientist discovers a new and unknown fossil, he gets to give it a scientific name. Some choose a name that reflects the shape of the animal, some choose a name that relates to where it's found, and others choose to name them after their favorite rock stars.
A new exhibition, "Heavy Metal And Punk Fossils", explores this more amusing part of natural history by focusing on a series of bizarre fossils that all are named in honor of rock stars. One of the pieces on display will be a 420-million-year-old worm with huge jaws, which carries the nameKingnites Diamondi, named by Professor Mats Eriksson, from Lund, Sweden, after the Danish metal maestro King Diamond. Another equally old and ferocious-looking worm is named Kalloprion Kilmisteri, after Ian "Lemmy" Kilmister of MOTÖRHEAD. Other fossils that are portrayed in the exhibition are named after members of AC/DC, BAD RELIGION, SEX PISTOLS, and RAMONES. And although not very metal, a fiercely looking dinosaur, Masikasaurus Knopfleri, is named after Mark Knopfler fromDIRE STRAITS.
The exhibition portrays the story behind the fossils, the rock stars and the scientists behind the names, and the funny anecdotes about why they choose the names they did.
The June 9 opening of "Heavy Metal And Punk Fossils" at Geomuseum Faxe in Faxe, Denmark turned out to be quite spectacular, as King Diamond made an appearance and exposed the animal named in his honor.
Among the guest speakers was Eriksson, whose naming of fossil organisms after King Diamond and Lemmy initiated the idea behind the exhibition. Danish radio host and heavy metal singer Alex Nyborg Madsenwas chosen to reveal the exhibition, but when King Diamond turned up at the reception, he happily shared the duty with him, so King could reveal the big lifelike model of Kingnites Diamondi, the fossil named in his honor.
King Diamond was visibly moved by being one of the stars in the exhibition and stayed around for a long time and chatted, had pictures taken and wrote autographs. Eriksson even said that meeting King Diamond in person was a greater experience for him than it was when he was appointed as professor two years earlier.
King was in Danmark as part of his ongoing world tour where he will headline at the Copenhell festival on June 15 in Copenhagen.
Museum curator Jesper Milàn explains: "It was an unbelievable honor for us that King Diamond came by and participated in the opening reception, and luckily, he was very pleased with the exhibition and thought the model of Kingnites Diamondi (the 420-million-year-old fossil) was great and very metal in its raw brutality."
The exhibition is being held as a cooperation between Milàn and Esben Horn from 10Tons Aps, a company specializing in zoological and palaeontological reconstructions who built models for the exhibition.
Eriksson, Dr. Gregory Edgdecombe, Natural History Museum in London and Dr. Jingmai O'Connor from Institute of Vertebrate Palaeontology and Palaeoanthropology in Beijing have been scientific supervisors on the project.
The "Heavy Metal And Punk Fossils" exhibition can be seen at Geomuseum Faxe in Faxe, Denmark the rest of the year.
Comments
comments
Advertisement




THIS DAY IN HEAVY METAL HISTORY

June 10, 1971: Fans at a Denver Jethro Tull concert become unruly. The cops use tear gas but the concert continues even as the gas envelops the stage

June 10, 1983: Pantera's debut "Metal Magic " drops. The album was produced by Jerry Abbott (under the alias "The Eldn'"), a Country music songwriter and producer, and father of Pantera's Darrell (Dimebag) and Vinnie Paul, who were seventeen and nineteen years old, respectively, at the time.

WHAT'S HOT

November 19, 2014

Here is the official statement of Obscene Extreme Festival: The death/grind grinder from Greece called HEAD CLEANER produces a high-quality and technically complex mosh similar to the production of the...

HEAVY COLUMNS

May 25, 2014

I arrived at my hotel fairly early. Luckily, those "nicer", more expensive hotels are more likely to have a room available even if you show up early, so I...

UPCOMING EVENTS

SUPPORTED EVENTS

POLL

FIND US ON FACEBOOK
Copyright © 2008 - 2013 Metalpaths. All Rights Reserved.