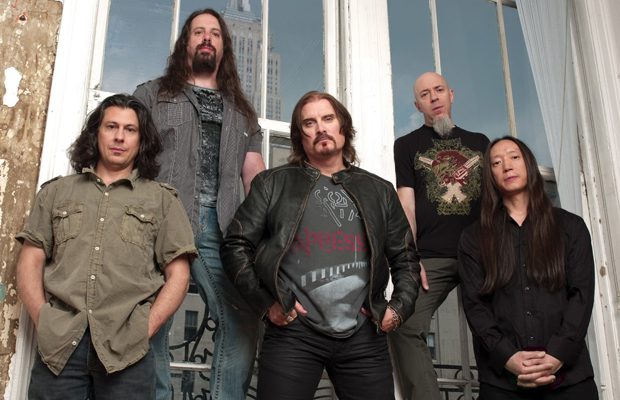 Source: Blabbermouth
The new self-titled album from progressive metal giants DREAM THEATER will be released on September 24 via Roadrunner Records.
An 18-shot photo gallery from the making of the CD can be found at RoadrunnerRecords.com.
"Dream Theater" was recorded at Cove City Sound Studios in Glen Cove, New York, with founding guitarist John Petrucci producing and studio luminary Richard Chycki (AEROSMITH, RUSH) engineering and mixing. The album marks a brilliant new chapter for the always adventurous band, their first to have been written and recorded with drummer Mike Mangini wholly integrated into the creative process from the start.
"I see every new album as an opportunity to start over," says Petrucci. "To either build or improve upon a direction that has been evolving over time or to completely break new ground. This is the first self-titled album of our career and there is nothing I can think of that makes a statement of musical and creative identity stronger than that. We've fully explored all of the elements that make us unique, from the epic and intense to the atmospheric and cinematic. We're incredibly excited about 'Dream Theater' and can't wait for everyone to hear it."
"Dream Theater" will be available in a wide range of distinctive versions, including standard and special-edition CDs, 180-gram vinyl double LP, and a limited-edition box set. Pre-orders are scheduled to get underway sometime in July at the Roadrunner Records webstore.
Asked whether having drummer Mike Mangini involved in the songwriting process this time around has made a difference in the new CD's overall sound, keyboardist Jordan Rudess recently said: "It really has. This is the first album where Mike Mangini [who joined the band in Ocober 2010] has been there and really part of the writing process. He's such a sweet guy and he has so much energy, and it's just great to have that energy involved when we're writing the music, 'cause he'll come up with stuff that's really cool. We'll be composing along our merry way and stop to maybe look at the next part, and he offers this other perspective which we never had in the same way that we have it with him, which is that he has a super math brain — a rhythmic math brain; he's really an expert in that field, more so than myself or [guitarist] John Petrucci or anybody in the band — so he can say, 'Guys, if you play 10 measures at 7, and if you play triplets five times, and you do this and that, it's all gonna equal out in 21 measures. Go ahead and try it.' And at first, we're , like, 'What?' But he kind of sees that; he sees that map."
In a recent interview with Roadrunner Records, Petrucci stated about the making of DREAM THEATER's new CD: "First of all, it's been going great with [Mangini], and as much as we've been a band together for about 15 years, we haven't really experienced that process together. We've been in the studio for a few weeks now, and he's been amazing. Chemistry is great, the writing process and the whole vibe is great, and his role is to let his personality shine as a drummer, creatively and to have his input and his musical personality really come through. And I gotta tell you, it's happening. When people hear the drumming on this album, they're gonna be pretty freaked out. On the last album, he did a great job, but he wasn't there for the writing process and he was interpreting drum parts that I had programmed. Even though he used his creativity, of course, to change them up and do his thing, I feel like now he's just Mike Manginiunleashed. It's all him. It's all his creativity, all his decisions and ideas and man, the guy's an animal."
"Live At Luna Park", DREAM THEATER's live concert, which was previously scheduled for release in May via Eagle Rock Entertainment, will now drop in North America on November 5 as a Blu-ray, 2DVD, 2DVD + 3CD, Blu-ray + 3CD, deluxe edition with 40-page book, Blu-ray + 2DVD + 3CD, and digital video via iTunes.
"Live At Luna Park" was filmed over two nights in South America — home to one of DREAM THEATER's most ardent fanbases. The DVD was filmed August 19 and August 20, 2012 at Estadio Luna Park in Buenos Aires, Argentina after a 15-month world tour, hitting 35 countries.