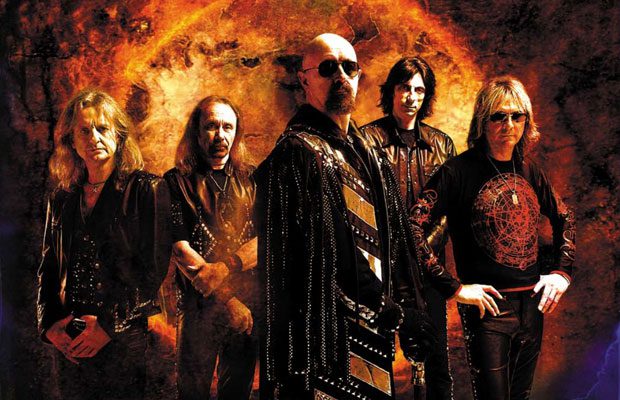 Source: Blabbermouth.net
British heavy metal legends JUDAS PRIEST have completed work on their brand new studio album, to be released later in the year.
Speaking to Artisan News at last night's (Monday, March 17) VIP listening party for the Ronnie James Dio tribute album "This Is Your Life" and awards gala at the Avalon in Hollywood, California, JUDAS PRIEST singer Rob Halford stated about the band's new CD (see video below): "The record is finished; it's absolutely finished as of today." He added: "It's a relief. It's a relief because whenever PRIEST makes an album, like any band, you put your heart and soul into it; it is that typical 'blood, sweat and tears.' It's not an easy thing to do 40 years later. But PRIEST has always been up for the challenge of that, and it's one of things that we love to do more than anything else as we move on through our metal years. So this is a great time for PRIEST: 40th anniversary, a brand new record. Life couldn't be better."
In a 2013 interview with Billboard.com, Halford described the new PRIEST CD's sound as "hard. It's heavy. It's something we think our PRIEST fans will be thrilled with. We know we have a reputation to maintain, and we know we have to deliver something really strong and solid. The album is going to be full of all the great things you love about JUDAS PRIEST — I don't think I can say anything more than that without being hung, drawn and quartered."
Speaking to VH1 Radio Network's Dave Basner, Halford said about what fans can expect from JUDAS PRIEST's next LP: "We felt it was very important to follow up [2008's] 'Nostradamus', the last release, and that was a concept experiment and it was a real success for us and the fans loved it, but I think our fans and ourselves as a band, we want to get back to the side of PRIEST that we haven't heard for a few years and reemphasize and remake those big, heavy metal statements again."
PRIEST's next album will mark the band's first release with Richie Faulkner, most recently guitarist in the backing band for Lauren Harris (daughter of IRON MAIDEN bassist Steve Harris).
Faulkner joined PRIEST as the replacement for original PRIEST guitarist Kenneth "K.K." Downing, who announced his retirement from the band in April 2011.
Asked how it has been collaborating on new music with Faulkner, Halford told Guitar World in a 2012 interview: "Really, really strong. Exciting. He's riffing and saying, 'Robby, I'm thinking of this and this and this.' It's really exciting to have that kind of energy, because you feed off of it."
He added: "[Richie] went through the ritual on [the 'Epitaph'] tour, did great work on stage, the fans embraced him, so it's now time to see what we're capable of, the writing trio of Glenn [Tipton] and Richie and myself."
Regarding whether technology has changed JUDAS PRIEST's songwriting process at all, Halford said: "It's dangerous to walk around with a flash drive on a bunch of keys. [Laughs] To a great extent, it doesn't really change. The technology is amazing in terms of the advantages it brings to music now, some of it good, some of it very bad. It's all about discipline and self-belief, determination, wanting to do the best you can do and not accepting anything that's below par. We've always had that attitude in PRIEST. We've always felt really strongly about any track that goes out for our fans. We're still doing it like we always have: firing up the riffs and finding a vocal melody to go with it, me going into me wonderful world of the Roget's Thesaurus and trying to come up with a new lyric and a new idea. And that's what we've been doing for four decades."