British black metal legends CRADLE OF FILTH returned with the release of their eleventh studio album "Hammer Of The Witches". Metalpaths caught up with singer Dani Filth who talks about the writing process of the new album, the lyrics, the line up changes and the plans for the release of another video clip in September.
---
Hello Dani and greetings from Greece and Metalpaths.com. Where do we find you at the moment?
At the moment I'm actually at my home in England.
Your new album released just a few days ago.  Are you satisfied with how the record turned out?

Yeah, totally satisfied. I'm very pleased with people's opinion towards it. What comes up is good.
How would you describe "Hammer Of The Witches" to someone who has not listened to the album yet?
Well… it is dark, it is cinematic, it is brutal and melodic as well. It is like a magical journey really and it's like tough Judas Priest.
Yeah, I could say that! Personally, I'm really impressed by your new album which in some way reminds me the glorious days of "Midian" and the early years in general. Do you agree with this comparison?
Yeah, I suppose, because the material is tough and there are a lot of twin guitars going on and a lot of melodic riffs and by nature alone it requires fast, high pitched… you know different vocals.
Was it a conscious choice to make an album closer to your early records or was it something that came out naturally?
It just came out naturally.
"Hammer Of The Witches" marks also your first record with a completely new line up. Would you like to introduce us the new members? How did you come up with those guys ?
Well, we had to find Richard to do a tour because Paul Allender for personal reasons couldn't tour with Cradle Of Filth and then close to the co-headlining tour we did with Behemoth at the beginning of the last year we found out that our other guitarist James Mcllroy, he was having to undergo a neck surgery for an injury he sustained whilst on the road and then he was unavailable for touring, So, in the last minute Martin found someone that he'd worked with before which was a shock. And yeah, we just got on the road, we were playing brilliantly, we gained very good reviews. We were able to kind of choose just which songs from our back catalogue we wanted to do so we were playing stuff that we never played before. We played in the Philippines recently and the promoter asked us especially that if we could play "Lilith Immaculate" and with two guitarists who have never played it before, we went off in front of five thousand people and played it for the first time. It was perfect.
That's amazing! Can you tell us a few things about the composing process and how has been working with a full line up again after such a long time?
It's been great! Everybody contributed to the new album. We wrote another few songs that we didn't actually put on the record, we had to drop them very early on. They were great songs, really cool. There are bonus songs on the special edition, the others were no less in quality; we just had to choose two extra songs to be on the special edition. I'm just happy we were writing and doing festivals and we went to Russia on tour and then we went straight to the studio.
Are all the songs completely new compositions or maybe you used some ideas from songs of the past?
Totally new, yes.
And what the lyrics of "Hammer Of The Witches" are talking about?
All kinds of things. They are very much based in medieval. The title track "Hammer Of The Witches" is based literally on the English translation of "Malleus Maleficarum" which is a medieval book to the prostitution and witchcraft during the medieval era. And all translation is about the hammer being crushed into witches' hands and it is about retribution, about revolution, it's about being the underdog. The whole album has witchcraft and demonology running throughout it. The most of the songs are dark, witch stories.
The concept of the witches, the artwork and especially the orchestral parts of the album creates a really dark and mysticism vibe reminding a lot of the middle ages kind of vibe. Do you draw inspiration of that period, and if yes, what intrigues you the most from the middle years ?
Not in total, we are drawing inspiration from all kinds of things. Witches best suited the imagery of this record. From the first track, the ideas people are putting forward, the general feeling has a certain atmosphere to it. "Hammer of the Witches" was a working title firstly and then when the artist came on board and then he loved the title "Hammer of the Witches" so that became the title of the song and the album title. And we went straight to the recording.
Talking about middle ages' vibes I couldn't resist asking you about Game Of Thrones. In some way, there are a few similarities between the series and your music as it comes about cruelty, magic, darkness and all this kind of vibe. Are you a fan of Game Of Thrones? Does this kind of films or books inspire your music?
I have never watched Game Of Thrones neither read the books. Our bass player is a big fan of Game of Thrones, he reads the books as well.
You released a video clip for "Right Wing Of Triptych". Do you believe that your music can expressed better through a video? Are there any plans to release another video clip?
Obviously, when you spend 3-4 months in a studio and you got to that point where you deliver the album and you could do the stuff that artistically represent the record then it's kind of fun to get involved in it. Yes, obviously I don't think you can do the lyrics justice; sometimes videos are mere interpretations of the lyrics. But yeah, it was fun – we had a lot of fun filming that particular video. The guy who actually shot the video, the director, we've worked with him with my other band, Devilment – he did the video for "Even Your Blood Group Rejects Me". He's currently working on the second one. We shot the video in an air force base close to where I live in in England. If we do a second video, which hopefully we do, we are not going to shoot it before the tour start so probably we're going to have to shoot it late September.
Do you already know for which song you are going to shoot the video?
Probably we gonna do "Blackest Magic In Practice".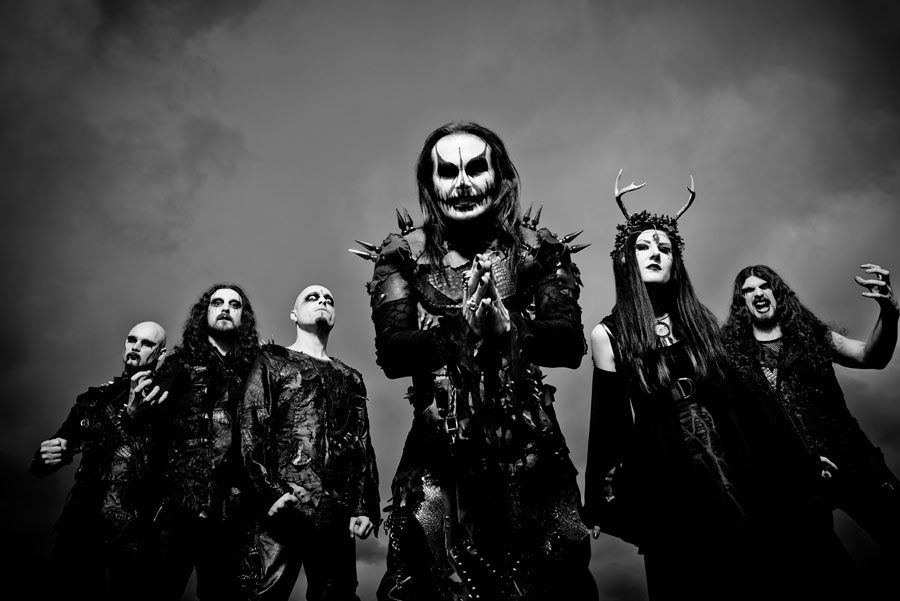 That's great, we are looking forward for that! Closing with the new album,  what differences do you find between black metal of the 90's and nowadays?
It's very different; I think it's a little bit more fragmented – it was always fragmented anyway – it just had more emphasis by the media since it was fresh, it was new and exciting.
Do you follow the new bands? What are you listening to in your free time?
Sometimes yeah, I like GHOST, I like AMORPHIS, I like BAD RELIGION. Black-metal-wise, I like CRAFT; there are a lot of bands I listen to. WHITECHAPEL, I like a lot; I buy a lot of older albums and then I like KREATOR that bring out a new album. Obviously looking forward to the new SLAYER record, hopefully it'll be good.  Obviously I am looking forward to the GHOST album which coming up quite soon.
So what are your future plans?
We're going back in a few weeks and I think we have 3-4 festivals after that finishing with Summer Breeze. Cradle of Filth begin a European tour 15th of October in England that goes throughout Europe and finishes in December.  We're currently looking at a south American tour in December but we're having a few problems. Hopefully that will go ahead because in January, we have to do America and Canada. And after that, we're looking to Australia and New Zealand shows. There will be a lot of touring.
Thank you Dani for this chat. You may close this interview the way you want.
Thank you for your talk and if you want to find out about touring or merchandise or what's happening with CRADLE OF FILT, visit www.cradleoffilth.com or Facebook site to Dani Filth or CRADLE OF FILTH obviously. So, thank you once again and I hope people enjoy the album. I hope they pay for it and then download it legally. Thank you for the interview.