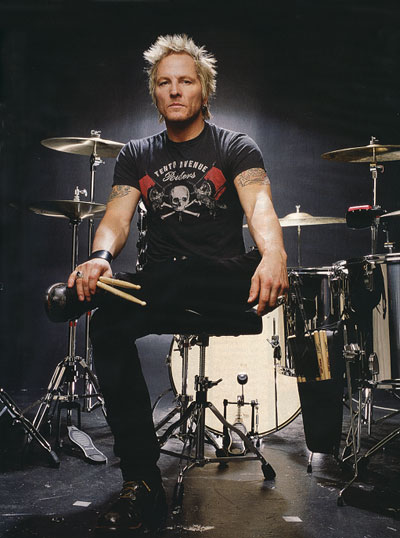 Dani Buarque of the "Lokaos Rock Show" (web site) conducted an interview with drummer Matt Sorum (VELVET REVOLVER, GUNS N' ROSES, THE CULT) when he performed with the Brazilian rock band KIARA ROCKS on July 13 at naMATAcafé in São Paulo, Brazil. You can now watch the chat below.
When asked if guitarist Slash's current solo career and intensive tour schedule is the primary reason VELVET REVOLVER has been out on hold, Sorum said, "Slash has been on tour almost two years now [but] it's not the reason [VELVET REVOLVER is inactive]. I think the reason is that is hasn't fallen into place yet. After [we parted ways with singer] Scott Weiland [in 2008]… We had such a great first record, especially. The second album is still a good album, but… It's hard to replace Scott for that particular band, I think. It's a bit of a gray era.
"VELVET REVOLVER, we really felt that we were… Especially Slash, Duff [McKagan, bass] and myself, we were the three main guys that started VELVET. 'Cause Scott came in much later. So to replace Scott, we felt, could be possible. And we tried a couple of guys and it didn't work out. [But] I don't wanna say it's over. It's just on a hiatus. We'll make music again together at some point."
Sorum was also asked if there was any truth to the rumors that former SKID ROW singer Sebastian Bach auditioned for VELVET REVOLVER. "Sebastian tried out at the very beginning," Matt said. "Sebastian came in and sang six songs before we got Scott. But we knew at that time….
"It was funny, because when we did VELVET REVOLVER, we had our relationships with certain singers, but we wanted to make a modern rock album, and we had to figure out a way to make that work. We didn't wanna be like GUNS N' ROSES. We knew we had that in us anyway, especially the Slash and Duff sound was the initial sound of [GN'R's classic debut album] 'Appetite For Destruction', the way they played together and everything. Part of that chemistry was there, and when we added Scott, it brought it into a more modern rock element. He came more from grunge — the Seattle [sound like] SOUNDGARDEN, PEARL JAM and bands like that. So it took it sort of forward. We became more of a modern rock band and we were on modern rock radio. GUNS N' ROSES wasn't even being played on those radio stations in America.
"When we asked Corey Taylor [SLIPKNOT, STONE SOUR] to join, that was my idea. I said, 'Why don't we get Corey Taylor from SLIPKNOT?' And he's a great guy, number one — he's an absolute sweetheart — and he rocks. [But] Slash just didn't see it like the rest of us did. We liked it. We had ten songs. [We] could put the album out tomorrow. It's done. I said, 'Let's go.' But Slash wasn't feeling it. If we're not all feeling it together, we can't do it."
While the team-up of Corey Taylor with VELVET REVOLVER never officially took off, VELVET guitarist Slash did confirm that the band got together with Taylor to jam and even record some new material. The Pulse Of Radio asked Taylor what they worked on at those sessions. "We did a bunch of stuff, you know," he said. "We did a bunch of stuff from the first album, we did a bunch of stuff that we had been kind of demoing back and forth and whatnot, seeing if it would work, you know, just like that, and it was a lot of fun, man. You know, we ended up writing a bunch of stuff as well and just kind of seeing what would happen in that creative sense, you know."
Slash admitted in a recent interview that he was the main reason why Taylor didn't get the frontman job, explaining, "It just didn't seem to fit right to me. And he's great, and I love Corey, but it didn't seem like the answer to the VELVET REVOLVER problem."
Taylor told a Canadian radio station after hearing of Slash's comments, "I guess it just wasn't working for him, which . . . He's Slash and he's entitled to have that, and I'm not gonna argue with him. But it was cool to just be able to get together and jam with those guys and I made some really cool friends."
Source: www.blabbermouth.net