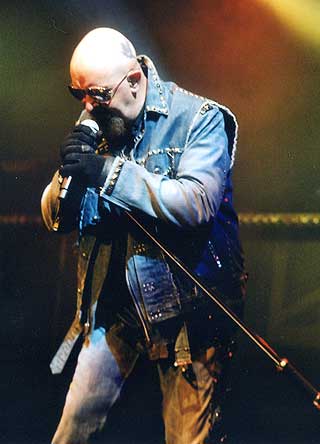 British heavy metal legends JUDAS PRIEST have released the following statement:
"There has recently been some nonsense and propaganda posted on the Internet, including on Rob's [Halford, JUDAS PRIEST singer] web site, regarding the band and management. (Rob currently is not controlling his web site and absolutely does not agree with the comments.)
"We refuse to get drawn into any public arguments — it is below us and will be dealt with legally.
"The band have always jointly made any major decisions and have been with the same management team for over 25 years. Everyone knows and respects them in the music business and we have ultimate faith and trust in the way they have always guided us.
"We are totally focused now on the 'Epitaph' tour and the reactions every night have been incredible. The shows have been amazing and we're having the time of our lives! Our intention now is to travel the world one last time and perform JUDAS PRIEST-style heavy metal for all the fans out there. The mood and atmosphere in the band has never been better!
"We have just completed the European/U.K. first leg of our world tour and now after a short break are going to South America and then the States. Come along — join in and keep the faith!!"
The "nonsense and propaganda" JUDAS PRIEST is referring to is a message allegedly posted on July 29 in the forum section (The Metal God's Quorum) of Rob Halford's web site by the singer's longtime personal manager John Baxter, which accused PRIEST's management team of "unprofessional" and "unethical" conduct as it relates to Halford's business matters "for much of the last six years." (Although the original message has been removed from Halford's web site, a copy of it can still be found here.) A follow-up message purportedly from Baxter appeared on the site on August 1 in which he stated that he had "resolved all matters" related to his dispute with PRIEST's management and he promised to "share general details of the resolution once the lawyers clean up." He added, "Rob Halford's participation in the ['Epitaph'] tour was never an issue, and he will continue to tour with JUDAS PRIEST on its farewell tour."
After announcing his departure from JUDAS PRIEST in April, founding guitarist K.K. Downing issued a statement explaining that "there has been an ongoing breakdown in [the] working relationship between myself, elements of the band, and the band's management for some time. Therefore I have decided to step down rather than to tour with negative sentiments as I feel that this would be a deception to you, our cherished fans."
Source: www.blabbermouth.net