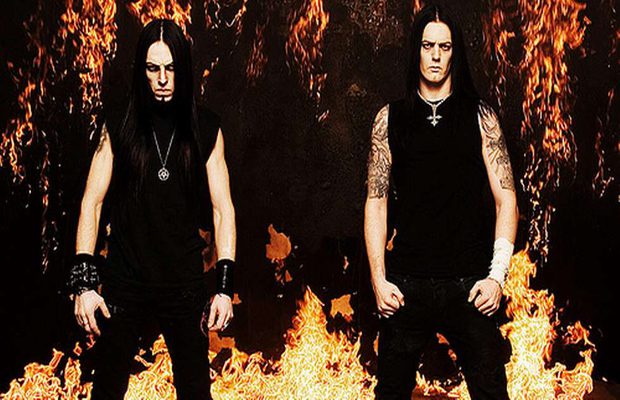 Source: Blabbermouth
Norwegian black metallers SATYRICON are putting the finishing touches on their ninth, self-titled studio album for a September release.
Comments SATYRICON frontman Sigurd "Satyr" Wongraven: "I'm about to start my last day in the studio! I had my first February 2nd, so it has been a while, you could say.
"I know I might have to a day of recalls (minor adjustments) and there is mastering too, but this is pretty much it.
"Today the record will be complete.
"Throughout the mix, I have redone a couple of vocal things that needed it and I had some keyboard and piano ideas that I have added.
"It is funny how it takes longer when you try and balance a mix without doing much to the sound.
"I am very proud and I sincerely hope you will like it."
Check put photos from the studio at this location.
"Satyricon" will feature a guest appearance by Sivert Høyem, the Norwegian singer best known as the vocalist of the rock bandMADRUGADA.
Speaking to AOL's Noisecreep at this year's Inferno festival, Satyr stated about SATYRICON's upcoming album: "To me, it sounds very authentic, it's organic-sounding. And in this digital age where music is mostly played through computers, a lot of that analog vibe gets lost in translation when you play music through medias like that, but I still wanna do it because there's nothing quite like it. To me, it just makes everything sound the way it's supposed to sound — it's dynamical; the music is alive, it's not overly compressed, the levels are not pushed. So, musically speaking, it's a very atmospheric record… This record is full of life. There are a lot of surprises here, but I think it's gonna be a record that's gonna help the black metal movement perhaps find a new way for the future."
SATYRICON has always pushed boundaries and never conformed to what was "expected". That mindset continues to this day, as they awill take part in a very special, exclusive show on September 8 at Oslo's Norwegian National Opera House, where they will perform together with Norway's 55-strong National Opera Chorus.
The special event is part of the Ultima Oslo Contemporary Music Festival, and fans of both SATYRICON and the National Opera Chorus can look forward to a very unique and exciting evening, which coincides with the worldwide release of SATYRICON's new CDtitled.