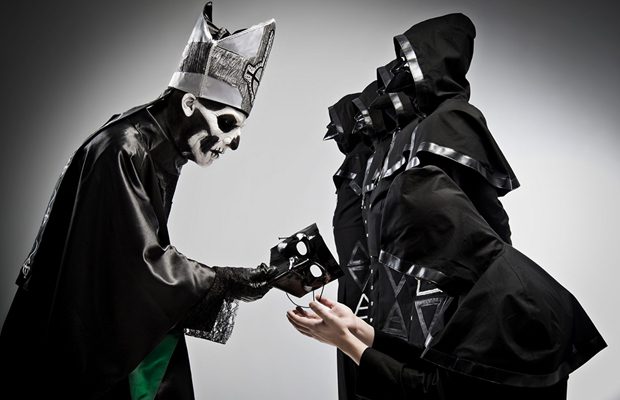 Source: Blabbermouth.net
One of the Nameless Ghouls from Swedish occult rockers GHOST was interviewed on the November 15-17 edition of Full Metal Jackie's nationally syndicated radio show.
To see a full list of stations carrying the program and when it airs, go to FullMetalJackieRadio.com.
Full Metal Jackie: GHOST has a new covers EP [out] called "If You Have Ghosts". It was recorded and produced by Dave Grohl [FOO FIGHTERS, NIRVANA]. Who initiated working together — GHOST or Dave himself?
Nameless Ghoul: I think it was… we bumped into him when we were doing festivals, and we just started talking about… I don't remember exactly what it was now, but we just got into the idea and the setup of possibly working together at some point, and this was late summer, last summer, and FOO FIGHTERS were just about to go on a little bit of a break and he just happened to have some time over. So, it was very quickly, sort of, decided that, well, we should do something very, very soon and very quick just in order to make it happen. Because if you do something and place it too far ahead, it might collide with something else. So, it was just a very, very playful project, very, yeah, very fun and inspiring.
Full Metal Jackie: A pretty interesting choice of artists to cover on this covers EP: ABBA, DEPECHE MODE, ARMY OF LOVERS… What about a song sparks your interests?
Nameless Ghoul: First and foremost, obviously, it has to be a good song. The criteria is, basically, there has to be something in the song that is an ingredient that you can change, you can alter it, you have to hear it like in an alternative version of the song. And secondly, lyrically, it needs to be sort of fitting with [GHOST frontman] Papa, 'cause obviously there are a whole, big selection of songs that you just want to find obscure songs, but it has to sort of fit into the concept in some way. Considering how extremely huge ABBA is, you know, "I'm a Marionette" is probably one of the songs that most people don't even know, so, it is always funnier to bring out a song that is not completely synonymous with the artist. As well as I think, you know, "Waiting For The Night" is not probably the most known DEPECHE MODE song.
Full Metal Jackie: Who else is on your wish list of people you'd like to collaborate with? What puts someone on the GHOST radar that you would want to work together with?
Nameless Ghoul: That's a good question. I mean, there's always, like, from an aesthetic point of view, there's so many cool, different sort of collaborations that you can partake in — either like a writing thing or purely an artist lending its talents to whatever you want to do, or it's a producer, or a mixer, or… there are so many things. There are so many people that are very, very skilled at what they do. But one thing that we've learned is that, you know, sometimes certain producers, certain people work very, very well together with certain bands, and vice versa. Whereas bringing someone on that is a name is not always a guarantee for success. So even though, from a personal standpoint, you have a lot of people that you would like to explore working with, I'm not entirely sure there are so many that we believe could do miracles with us, because it's a special, you know… As much as we try to find cool and funny songs to cover that will fit with Papa, it's the same thing if we want to bring someone onto our concept, and do like a feature thing. Which is definitely not out of the question, it really needs to be someone that fits in one way or another. Yeah, of course, we have ideas, but they are probably more… We try not to make them very predictable — you know, having some big lead singer from an old heavy metal band. That would not be very fun. I don't know. We'll see in the future. We have some ideas and we'll see if it works out.