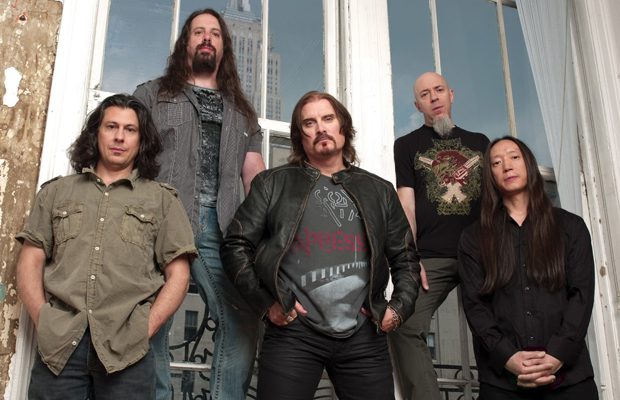 Source: Blabbermouth
Progressive metal giants DREAM THEATER are in the studio recording the follow-up to their Grammy-nominated album "A Dramatic Turn Of Events". According to a new online post by the band's guitarist, John Petrucci, "all vocals are done" and he is currently "cutting solos" for the CD, which is expected at the end of the summer via Roadrunner Records.
Asked whether having drummer Mike Mangini involved in the songwriting process this time around has made a difference in the new CD's overall sound, keyboardist Jordan Rudess recently said: "It really has. This is the first album where Mike Mangini [who joined the band in Ocober 2010] has been there and really part of the writing process. He's such a sweet guy and he has so much energy, and it's just great to have that energy involved when we're writing the music, 'cause he'll come up with stuff that's really cool. We'll be composing along our merry way and stop to maybe look at the next part, and he offers this other perspective which we never had in the same way that we have it with him, which is that he has a super math brain — a rhythmic math brain; he's really an expert in that field, more so than myself or [guitarist] John Petrucci or anybody in the band — so he can say, 'Guys, if you play 10 measures at 7, and if you play triplets five times, and you do this and that, it's all gonna equal out in 21 measures. Go ahead and try it.' And at first, we're , like, 'What?' But he kind of sees that; he sees that map."
In a recent interview with Roadrunner Records, Petrucci stated about the making of DREAM THEATER's new CD: "First of all, it's been going great with [Mangini], and as much as we've been a band together for about 15 years, we haven't really experienced that process together. We've been in the studio for a few weeks now, and he's been amazing. Chemistry is great, the writing process and the whole vibe is great, and his role is to let his personality shine as a drummer, creatively and to have his input and his musical personality really come through. And I gotta tell you, it's happening. When people hear the drumming on this album, they're gonna be pretty freaked out. On the last album, he did a great job, but he wasn't there for the writing process and he was interpreting drum parts that I had programmed. Even though he used his creativity, of course, to change them up and do his thing, I feel like now he's just Mike Manginiunleashed. It's all him. It's all his creativity, all his decisions and ideas and man, the guy's an animal."
"Live At Luna Park", DREAM THEATER's live concert captured on 2DVD, Blu-ray, Digital Video, 2DVD/3CD, Blu-ray/3CD, and a deluxe edition (2DVD/Blu-ray/3CD), will drop later this year via Eagle Rock Entertainment.
"Live At Luna Park" was filmed over two nights in South America — home to one of DREAM THEATER's most ardent fanbases. The DVD was filmed August 19 and August 20, 2012 at Estadio Luna Park in Buenos Aires, Argentina after a 15-month world tour, hitting 35 countries.