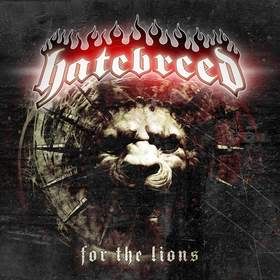 The much-anticipated covers album by Connecticut hardcore/metal masters HATEBREED, entitled "For The Lions", is available for streaming in its entirety on the band's MySpace page.
Century Media Records has announced that the European release of the limited-edition CD digipack and LP of "For The Lions" has been postponed due to "manufacturing issues."
The limited-edition CD digipack and LP versions of "For The Lions" will now be released on May 25 in Europe. The standard jewel case CD will be made available on May 11.
An e-card for "For The Lions" can be accessed at this location.
Due in the U.S. on May 5 via E1 Music (formerly KOCH Records), "For The Lions" is the follow-up to the band's #1 Billboard charting DVD, "Live Dominance" (released September of 2008).
The songs on "For The Lions" were carefully selected by HATEBREED to represent a panoramic view of some of their favorite artists and greatest musical inspirations. Having completed the album in 2008, the band felt their work wasn't done yet and just returned to the studio with original guitar player Wayne Lozinak to record additional tracks for the album. The four new covers are among the most bludgeoning the band has yet to record. They are "Ghosts Of War" (SLAYER), "Supertouch/Shitfit" (BAD BRAINS), "Thirsty" (BLACK FLAG) and "Suicidal Maniac" (SUICIDAL TENDENCIES).
"For The Lions" was produced, engineered and mixed by long-time band associate Chris "Zeuss" Harris.
"For The Lions" track listing:
01. SLAYER – Ghosts of War
02. CRO-MAGS – It's The Limit
03. SUICIDAL TENDENCIES – Suicidal Maniac
04. SEPULTURA – Refuse/Resist
05. METALLICA – Escape
06. BAD BRAINS – Supertouch/Shitfit
07. MISFITS – Hatebreeders
08. D.R.I. – Evil Minds
09. MADBALL – Set It Off
10. SICK OF IT ALL – Shut Me Out
11. BLACK FLAG – Thirsty
12. NEGATIVE APPROACH – Sick Of Talk
13. CROWBAR – All I Had I Gave
14. MERAUDER – Life Is Pain
15. AGNOSTIC FRONT – Your Mistake
16. JUDGE – Hear Me
17. OBITUARY – I'm In Pain
18. SUBZERO – Boxed In
The video for HATEBREED's cover of the SLAYER classic "Ghosts of War" can be viewed below. Helmed by "Live Dominance" director Kevin Custer, the clip is the first to feature returning HATEBREED guitarist Wayne Lozinak.
Source: www.blabbermouth.net