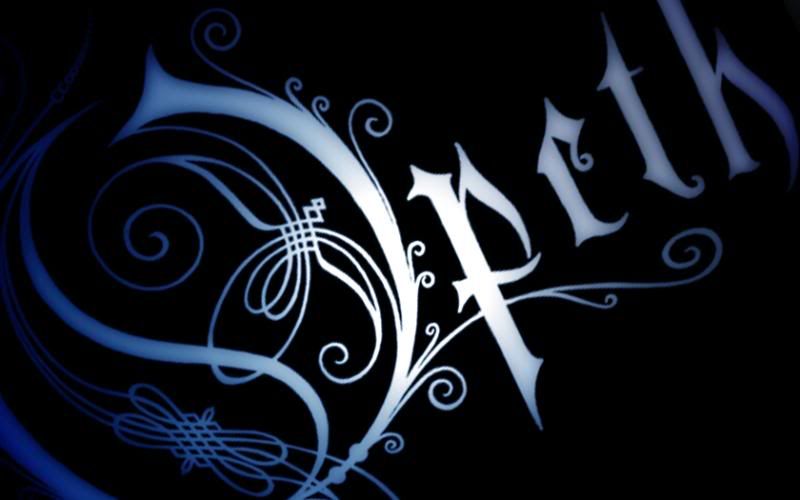 Josh Hart of GuitarWorld.com recently conducted an interview with vocalist/guitarist Mikael Åkerfeldt of Swedish progressive metallers OPETH. A couple of excerpts from the chat follow below.
GuitarWorld.com: A lot of people have immediately compared "Heritage" to "Damnation", mainly because of the absence of death metal vocals. Do you think that's a fair comparison?
Mikael Åkerfeldt: Yes and no. The only thing that's got anything to do with the "Damnation" album is the fact that there's no screams on there. I don't think there are many other similarities, to be honest. ["Heritage"] is a lot closer, I think, to the music I listen to to gain inspiration. To be honest, I don't really mind what album they compare it to. I guess it's the easy way out, so to speak, to compare it to the "Damnation" record, but I think the only similarities between those albums in reality is the fact that there's no screams.
GuitarWorld.com: At what point in the songwriting process do the albums start to take shape for you? For instance, when writing "Heritage", how soon did you realize the album wouldn't have screaming and would be more progressive-rock sounding?
Mikael Åkerfeldt: The initial idea was actually to do a modern-sounding… almost like a continuation of "Watershed". I wanted to do three-part harmony vocals all the time, like some type of metal version of THE BYRDS. [laughs] But it didn't really work out. I wrote a couple of songs but I didn't feel that it was interesting enough for me. So I scrapped a couple of songs that I had been working on and started from scratch, writing a song that became "The Lines in My Hand" on the new record. Which was a really odd song in comparison to anything else I've ever done before. I got more freedom to do whatever I wanted after writing that song. I kind of knew pretty early on that it was going to be an odd album, and at the time I wasn't particularly interested in the most extreme, heavy type of metal, I was more into something else. So I knew pretty early on that it wasn't going to be a super, super extreme metal record.
GuitarWorld.com: This record definitely displays the wide range of music that influences you outside of metal. I detect a hint of PINK FLOYD's David Gilmour on the song "Folklore", for instance. Who are some of the non-metal players that have really influenced you?
Mikael Åkerfeldt: Well, if you're talking guitar players, there are a lot of good guitar players out there. There's acoustic players like Bert Jansch. I like Nick Drake, and Jackson C. Frank. I love Jerry Donahue. Ritchie Blackmore has always been a big influence for me. I really appreciate his integrity. I might not necessarily be the biggest fan of the renaissance music he's doing now, but I love an artist or musician who has followed some time of calling, if you know what I mean. Other than that, there are so many great guitar players out there. Joni Mitchell, I think she's a great guitar player, piano player, songwriter. I've been listening to a lot of her. All sorts of stuff.
Read the entire interview from GuitarWorld.com.
Source: www.blabbermouth.net