Well, actually, if you already love them it's because of one and only solid reason: spectacular music. This line-up almost seems godsend to us, that never before have had the chance to attend a Roadburn Festival, or any other of the grand festivals that gather an abundance of psychedelic warlords. This ballsy move by Smoke The Fuzz, enables us to watch in one day an unfathomable –and versatile in style- group of bands, some of which, we dared not dream we'd ever see even on a concert of their own.

So, if you are already familiar with the psychedelic jamming/ fuzz infused blues genre, your reaction to the announcement of Smoke The Fuzz Festival – Howler Edition's line up, was presumably something along the lines of gawking at the screen, or plainly whimpering. It's okay, that's how the majority probably reacted. If, however, you have little or zero knowledge concerning these bands and you are not sure, if there's a reason to love them and/or attend Smoke The Fuzz Fest – Howler Edition, fear not, for this article is here to guide you.

All of the bands involved in the second day of Smoke The Fuzz Fest ,are basically master craftsmen at what they do and this is why, this gets to be a different kind of Spotlight article. Due to the extensive nature of their discography (e.g. ELECTRIC MOON), or the extensive nature of their songs (e.g. EARTHLESS, CAUSA SUI), the listener might find it a bit deterring to delve deeply in their world, should they not have a great deal of time to spare in their hands. Thus, it's up to us, to help you spread the love for these amazing musicians, in a more"pinpointed" kind of way.
SECTION 1
WHAT WE WILL (PROBABLY) GET TO HEAR
Of course, due to the nature of (most of) the groups' music, plus a number of other factors, it is quite difficult to predict, accurately, what songs will definitely get played on October 22nd. Also, I personally like to keep a "no spoilers" policy, so don't worry. All of the song listed below are just predictions, based on the popularity of certain albums/tracks and previous tours.
YURI GAGARIN
Another proof that if you're Swedish, your best course of action is to pick up a guitar and something good will happen for this planet. Seriously, the abundance and versatility of this nation's music, is so beyond reason, that for quite some time I've longed for my own radio show, just so I can have the chance to make a gigantic tribute to Swedish musicians. The latest of the gems, that sprouted from this Norse earth, is the psychedelic band that bears the name of the first ever cosmonaut. The familiar name accompanied by that inviting, colorful artwork, made their debut a no brainer, to click on for us space enthusiasts. Wasn't that a punch in the gut? Here we have the rare music phenomenon "love at first track". "First Orbit" is breathtaking: The sound document at the beginning (I'm guessing it's Yuri himself?) the bizarre electronic background sounds, the majestic and darkened emotion on the guitars, all create a grandiose build up to the ultimate, unexpected explosion at 7:29
Arguably, it's one of the best moments in this decade's psychedelia. And Yuri Gagarin remained a treasure well kept for us underground dwellers, until the December of 2015 when we started seeing praises, flying in from every direction for that new band, that had just released its second full length album "At The Center Of All Infinity". Of course, the unanimous acclaim from all sources made it even more urgent to see why the Swedes were growing bigger and everyone was losing their mind.
And 3:27 hits, all arguments lose their strength and we just open our arms wide and nod our heads in silent appreciation.
And this band is going to be the opening act. Lord have mercy on our souls.
SIENA ROOT
*See previous blabbering about Swedish music in this case as well.
SIENA ROOT, is one of the bands, that you can use as a prank on unsuspecting victims, with seemingly innocent questions like "Hey, when do you think this was recorded?" usually getting the desired answer "I don't know, between 73'-75?", which also usually leads faces of shock and subsequent laughter when you reveal to your friend this is a 00's band.
SIENA ROOT, have been doing this vintage rock thing since way before it became a trend (not that I'm complaining, hooray for vintage rock), starting their discography with 2004's masterpiece "A New Day Dawning". Wizards of equipment usage, they have perfected their sound from early on and have enlightened dozens of bands, on how to sound properly vintage, utilizing today's perception of music and abundance of influences. Each record, is different from their previous ones, yet they never fail to deliver top quality material.
Anything one might enjoy in classic and folk rock can be found in SIENA ROOT 'smusic. Saucy and genius riffs? Check. Male/Female vocals? Double check. Ethnic and folk organs like sitar, flute, mandolin, hurdy gurdy? Check all of it. Killer keyboards/organ in the vein of Jon Lord and Ken Hensley? Plenty of that for sure. Blues dynamites alongside stretched out folk prog elegies? Yes sir, shop's open, we've got all of that, pick anything you like.
To keep a long story short SIENA ROOT is a beautiful musical experience. They usually honor their latest works, so I gather we might get to hear stuff from their 2014, aptly named, album "Pioneers". Just give a chance to this beauty; a verse from the golden ages of rock, essential solos, sweet keyboards and to be honest, the part from 2:56 up to the 4th minute mark, is a legitimate answer to the question "Why do you love rock 'n' roll?".
Also, Siena Root is a band that often undergoes member changes, and that sometimes affects a band's setlist, but I sincerely hope that we will get to listen to old favorites like this little gem right here:
So for all of us, that'll attend Howler Edition, pure rock 'n' roll pleasure from Sweden it is!
ELECTRIC MOON
Ah, one of those bands, we all sighed when blasting their records, believing we'd have to travel abroad to live the notorious experience, that is their live shows. Although, ELECTRIC MOON, is a multi-leveled band, there are not many levels at what one might write about them; three words will do: Endless. Psychedelic. Jamming.
Honestly, I've never been more at a loss with a band's discography as much as I have with ELECTRIC MOON, jammer's delight I call them. These people revel in improvising and recording every minute of the day. Don't think those words are meant with malice though; the complete opposite is the case as I consider myself to be, a sucker for endless psychedelic improvisations. The German trio, excels at this sector. Truly, their sounds and plethora of releases, seem to warp the essence of time for the common mind, protruding an aura of indifference for the earthly issues and a continuous strive, to reach the pulsating vastness of the cosmos, using the dimension of time, only as a tool.
The use of "outer space" electronic sounds, is a key element to their music (how could that be missing from a band whose national heritage includes Klaus Schulze and Edgar Froese) , rendering them a somewhat illegitimate child, between my favorite cosmic loonies, THE COSMIC DEAD and more compact, guitar driven bands like EARTHLESS.
Let's leave the music do the talking from now on, although, I doubt I might predict this one right. Trying to predict what these artisans of improvisation are going to play at a show, is more futile than trying to gues,s the exact number of fish in a pack of sardines. It's ELECTRIC MOON we're talking about here, there is a good to fair chance, that they'll play something entirely new and then release it as a live album. In any case, here their self-titled track from their 2015 crushing live album "Theory Of Mind". Steal nineteen minutes out of your day, pour a huge glass of wine and let it take you on a trip.
CAUSA SUI
Of all the bands announced for this show, this is the one that made me think this has to be a hoax. CAUSA SUI, the Danish masters of avant-garde psychedelia (if this term can be considered fitting for them), who every year play a single digit number of shows, will appear live in Greece?! Jesus Christ Almighty! "CAUSA SUI's sound has been described as the sound of a giant wave, rolling up through the last four decades of music" is the description El Paraiso Records gives for them and they hit the center of the target. What CAUSA SUI have achieved since 2005 is just insane.
They took a genre, that already demands the musicians to have more than vivid fantasy, the genre of, largely, fuzzed up psychedelic jamming, and infused it with jazz, early krautrock and progressive rock. Even to someone whose knowledge of jazz is "just the basics", the moment they come to realize, that this band has redefined a whole genre and created something entirely unique, is a moment of an epiphany-like experience. And truly, the term jamming –no offense- does not seem fitting, to describe how ingenious structures CAUSA SUI's songs have, following the example of all our beloved 70's progressive heroes. Listen to how they transform a song of eye-watering, ethnic, chilled out beauty into a complete, "acidic", technical jazz freak-out, especially after the eighth minute and on and then it closes with a dreamy sequence
When there's a discussion about musicians with raging imagination, CAUSA SUI should always be mentioned. With the trio of "Summer Sessions" and "Euporie Tide" (on a smaller scale) they managed to abstractly grab the essence of an entire season. This is like Vivaldi level stuff. Here's a track from "Euporie Tide" which is more restrained than "Manifestations Of Summer" yet so unbelievably intoxicating. Try to resist the urge to play on your invisible guitar on 6:00 and you will definitely break. And from 7:33 till the end, just "feel the prog".
CAUSA SUI returned on the discography game with 2016's mesmerizing "Return To Sky", which is the most "compact" album they have produced to date, I think, but it's also a shocker, just like its older siblings. I keep my fingers crossed that they'll play 2016's greatest song (to date) during the Athens show. Listen to this tribal beat people, the delirious build ups, the organ starting on 4:20 just writing history and that absolute insanity on 6:40 that made my eyes open ten times wide, believing that Gira from SWANS entered the studio to jam with the Danes.
This is the stuff dreams are made of. CAUSA SUI, is a band that transcends words and one of their rare live shows is an experience that cannot be missed.
EARTHLESS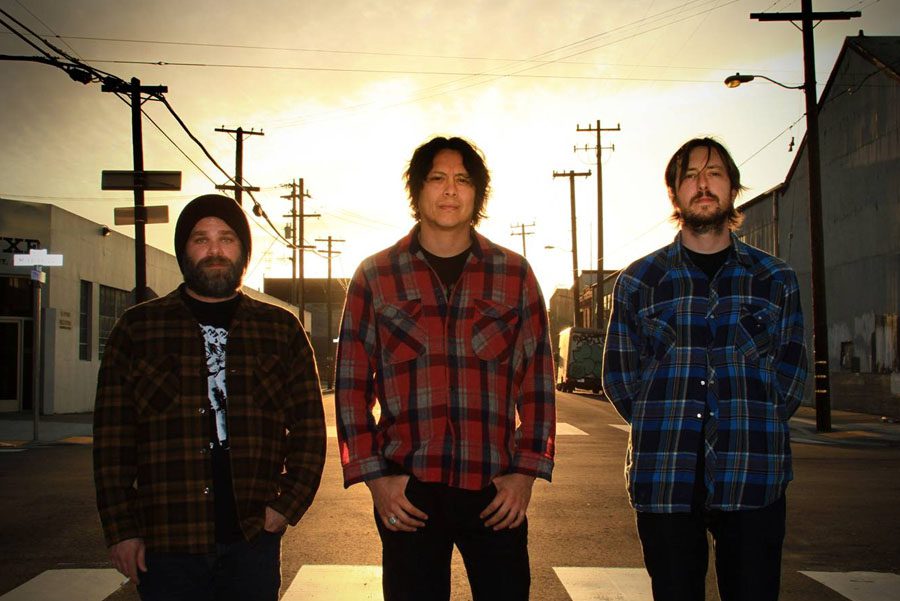 Isaiah Mitchell is the universe's way of saying sorry to the generations that never got to see the greatest musicians of all time (a)live. As always when talking about EARTHLESS, we will begin with some injustice to the other two beasts in the band, but what Mitchell can do with a guitar defies reason. You know that crushing moment when you realized you'd never get to see some of your favorite guitar players on stage; you'd never hear the voice of certain favorite singers, all that sad stuff? This man is here to tend to at least some of these wounds, since we get to see one of the greatest guitarists of all time play live for the second time.
Truly, I do not know how to begin to write anything about his skills. Let's let the music do the talking for a bit. Listen how easily he creates an iconic riff just on the first minute mark. Listen how naturally he can –pretty much- solo for fourteen minutes that can't even be realized how quickly they passed. Listen how groovy and violently he brings the listener down to rock 'n' roll reality just before things get out of hand on 8:30. Listen to the 5 minute closing insanity, in which that 12:06 funky boogie interjects to spice everything up to perfection.
I can go as far as a certain point before become tiresome, but truly, if the reader belongs to the group of people that always heard the best about certain guitarists and after hearing their work went like "This is what all the fuss was about?" (For instance, one might find that they don't like Joe Satriani, all opinions are respectable), please be advised that this is not the case. Anything one might like about guitar solos, Isaiah does it- as close to perfection as that term can exist in music-. EARTHLESS is madness and they are the answer to the question "Have you ever heard a solo that good that you wish it kept going for like 20 minutes?". Yes and yes, look right below.
If EARTHLESS took the riffs and solos used in one song only, polish them up a bit and maybe throw a chorus in there they could literally produce an entire album. But they'd never settle for something like that. Though many people might pull back when they see the duration of the songs, the reality is that EARTHLESS have created a form where classic rock and funk spirit resides in just a huge chunk of music. There is no horsing around or unnecessary stuff just for the sake of showing off, just legendary notes played in succession for a long time, with unparalleled flow. After seeing them live for the first time, my favorite comedian, Bill Burr commented on his podcast that EARTHLESS begin their show with the force that most bands reach at the peak of their show. What happens during the show in terms of energy and immersion is beyond words.
And of course, if Mitchell is the jet fuel that makes that vehicle take flight, Mario Rupacalba on drums and Mike Eginton on bass are the jet engine itself. I wish I had more knowledge about music so I could fully support my listener's claim that this is the greatest rhythm section of our times. The way they follow the guitar, set the court that Isaiah is gonna play ball in and sometimes even lead is just shocking. The rumbling sound they produce is like there is two-three more people on stage and to be able to grab the listener's attention when you have a guitar god on your team just goes to show the level of their skills and how the end result that thrills us is truly, a product of otherworldly  levels of teamwork. Let's leave it at that, with their latest funky, sensual, slow paced song from the split with Harsh Toke and let's hope they play that as well in Athens. God, I can hardly wait.
ALL THEM WITCHES
Since they are a simple band, we'll keep this section simple as well; 3 albums in 3 years, no fillers yet. If their career up to now was a Texas Hold' Em game, ALL THEM WITCHES would have a straight flush on every hand dealt. The fact that they have grown so big in so little time is not thanks to managerial tricks, or label advertising or any of that kind of stuff. They are just stupendous musicians and seem to hit home run with every note they play. They have redefined the term "electric blues" and have given a much needed breath of emotion to a genre that for a bit seemed to have been trapped in limited musical confines. Here is a good jump off point if you are not familiar with their work. 03:42 comes with an extra slice of air guitar and 04:15 always hits home in unfathomable ways.
Anyone who says "There are no classic rock songs anymore" just has not invested in bands of such ilk. They already have concert favorites (let alone fan favorites) and rightly so, since they so aptly manage to blend hard hitting fuzz with melancholic blues and amazing extra touches such as clever violin or organ passages to create memorable, top notch songs. It will sincerely be an emotional test to have them play after EARTHLESS have completely drain us and it really makes me wonder how our internal psychic world will respond to such moments.
As cool as a band can be, ALL THEM WITCHES have one of the most natural musical flows I've ever seen by a group on stage and they portray a unique ability of swaying the crowd in any direction they desire at the moment, be it "put your dancing shoes on" mode or a deeply emotional blues creation that requires silence and immersion by the crowd. It's like those tales we're used to hearing by elder concert goers who say things like "Yeah, I saw Zeppelin in London back when they were not really famous and you could tell they'd become huge". Well, not trying to compare apples and oranges here, but if I am to see ALL THEM WITCHES again at this point of their career, I feel extremely lucky. Moments like this song being played live is not something you come across every day.
To cut a long story short, it's certain that Howler edition will close with a bang. I honestly can't think of a more matching band to headline this crazy day.
SECTION 2

WHAT WE WILL PROBABLY (NOT) GET TO HEAR
This section deals with songs that portray the creative genius of some of the bands, but it's largely improbable that we will have a chance to experience them. Considering the informative spirit of this Spotlight, this section works as a way for people who are not familiar with the bands to come even closer with their work and find out why the rest of us are going nuts about this line up. In a few words, more songs, more reasons to love them.
YURI GAGARIN
I think that their performance will largely be based on their two full lengths, so there is a minor chance we'll get to hear this song, but please give it a listen, as it is properly mind-blowing.
SIENA ROOT
A progressive/ folk rhapsody that could have been written by the most revered bands of the 70's, yet it was recorded in 2006. It really brings out the best out of SIENA ROOT and it goes to show the diversity and love for music that these guys carry inside. Words fall short in the presence of such beauty, press play and travel in time.
ELECTRIC MOON
"One evening of great Krautrock jams at the Dragens Hule in Copenhagen" as ELECTRIC MOON state on their site. Papir is a really interesting case of a band, with the prominent progressive and post elements of their sound showing us psychedelia under a quite different prism. Of course when these folks decided to collaborate with ELECTRIC MOON, the result could be nothing sort of terrific. "The Papermoon Sessions" is a spectacular result that makes the involved parts look even greater than they already are. Let your fantasy run wild for those beautiful 16 minutes.
CAUSA SUI
As in the case of "Manifestations Of Summer", I don't think this track has many chances of being played live, because I don't know if CAUSA SUI can practically solve the matter of the saxophone parts played live (but I love "Manifestations…" too much to leave it out of the first section. I know, I cheated. ). Other than that, this song is a psychotic rollercoaster that I doubt any other band can offer. The last 5 minutes are just exceptional.
EARTHLESS
First stop is the split for Volcom Entertainment, where EARTHLESS just casually annihilate anything in their passage, with a speedy/punky tune which proves that if somebody puts cables on Mario's arms he could provide sufficient energy for a small city. For others this would be a career maker, for EARTHLESS it was a Tuesday.
Then we have a mellow, echoing, electric blues improvisation featuring Isaiah Mitchell and Juan Alderete of Mars Volta. Need I write more? Best enjoyed with headphones on.
And for dessert we have a legendary collaboration. The rhythm section of EARTHLESS;The guitarist duo of Heavy Blanket, J. Mascis and Graham Clise, two gentlemen you might know from a little band called Witch (and Dinosaur Jr. For J. Mascis); the possible moving of Earth's core for a centimeter or two is the end product.
ALL THEM WITCHES
April 20th 2015 and the boys from Tennessee decide to give a gift to their fans. How about a whole hour of a psychedelic Pink-Floyd-Meets-The-Southern-Blues jamming recorded live? It's quite possibly my favorite work of theirs to date, just class musicianship.
ALL THEM WITCHES playing "Call Me Star" at the train tracks under Liosion Street for Stray Songs, a series of web videos featuring bands and musicians playing live in the city of Athens" says it all.
And finally, the bizarre/dark side of U.S folklore we all love, depicted masterfully in just under 3 minutes.
EPILOGUE
That was the METALPATHS spotlight article, concerning the lineup of Smoke The Fuzz Fest – Howler Edition and we hope it turns even more heads on the direction of this great day of music. Just a few days to go and we can't help, but simultaneously feel as impatient as enormously happy a music fan can be!